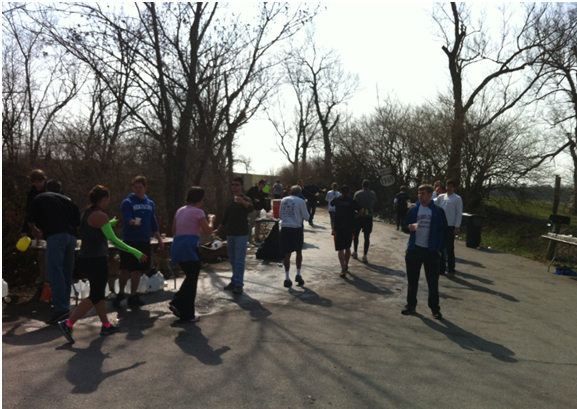 Brothers pass out water to mini-marathon runners.
April 4, 2013 Lexington, KY  The Omega chapter of Pi Kappa Alpha is constantly searching for community service events throughout the Lexington community. The Omega chapter feels that giving back to the community is of upmost importance and participating in these types of events gives us the opportunity to develop into quality men. Recently, the chapter sent a number of active members to help out at the Bluegrass Mini-Marathon. These members set up a œhydration station around the 7 mile-marker of the marathon, where they provided runners with water and Gatorade as they passed through the area. Once the last person had passed the station, the members packed up their supplies and cleaned the surrounding area. The race lasted approximately six hours, giving us a total of 120 logged community service hours (20 people).
The Bluegrass Mini-Marathon not only starts and finishes on some of the most beautifully manicured property in the United States on Keeneland Race Course, but the course traverses through multi-million dollar Thoroughbred Farms that you never get to experience anywhere else on the planet.
More general information can be found about the Bluegrass Mini-Marathon by visiting http://www.runthebluegrass.org/.
The Omega Chapter of The Pi Kappa Alpha Fraternity was founded at the University of Kentucky in 1901 and has initiated more than 2,000 members. In addition to the accomplishments at the University of Kentucky, The Pi Kappa Alpha International Fraternity has maintained the largest average chapter size of any inter/national fraternity for most of the past 20 years, and through its members has donated millions of hours and dollars to philanthropic causes and community organizations across North America.
"Pi Kappa Alpha's mission is to develop men of integrity, intellect, and high moral character and to fostering a truly lifelong fraternal experience."
Social Share